To contact me, you can email me at greg@prevailinglife.com or follow me on Facebook or Twitter.
Subscribe And Get My Free eBook
Special Offer! Subscribe today and you receive a link to download my just released e-book, From Dust to Destiny, FREE. This book will help you discover God's destiny for your life. As an added bonus the book includes a 4 week Group Study Guide.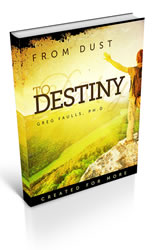 Sign up to receive my blog posts via e-mail and get a copy of my popular e-book 'From Dust To Destiny' for FREE.
Privacy Guarantee: I will never share your e-mail address with anyone else.