I created The Prevailing Life as my personal blog.  It is focused on helping people discover God's destiny for their lives.  I am committed to doing this by introducing people to Jesus, teaching them to walk with Jesus, and equipping them to do great things for Jesus.
I write to help you…
Discover the wonders of Jesus.
Learn to walk in a life changing relationship with Jesus.
Fully engage in an adventure of significance, sacrifice, and service for Jesus.
My goal is to create inspirational, practical content that will equip you to live a fully devoted relationship with Jesus Christ.  If you are wanting to consistently grow in your walk with God, this blog is for you.
If you are a first time visitor to the site you may want to explore the three main categories of blogs that I write…
I typically post three to four times a week.  I do not want you to miss my newest post.  You can subscribe via RSS or e-mail.

Subscribe And Get My Free eBook
Special Offer! Subscribe today and you receive a link to download my just released e-book, From Dust to Destiny, FREE. This book will help you discover God's destiny for your life. As an added bonus the book includes a 4 week Group Study Guide.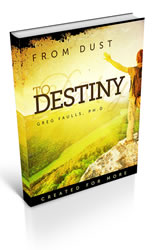 Sign up to receive my blog posts via e-mail and get a copy of my popular e-book 'From Dust To Destiny' for FREE.
Privacy Guarantee: I will never share your e-mail address with anyone else.